Join Our 3:1 Student To Instructor Ratio In A Fun, Supportive, And Motivating Environment.
Catalyst S.P.O.R.T.'s Semi-Private Training program in Midtown Manhattan combines the individualized programming of 1:1 Personal Training clients, with the fun, motivating and supportive atmosphere of Small Group Training. You'll look better, feel better, move better and have fun doing it!
We take pride in providing the most effective training techniques for our clients in a small, semi-private setting. We utilize kettlebells, barbells, TRX, and authentic human movement. Our professional trainer's design comprehensive and smartly targeted exercise plans specifically tailored to each client's personal abilities and goals. These uniquely designed semi-private exercise programs will spur you on to achieve amazing health and weight loss results that make you look forward to every workout!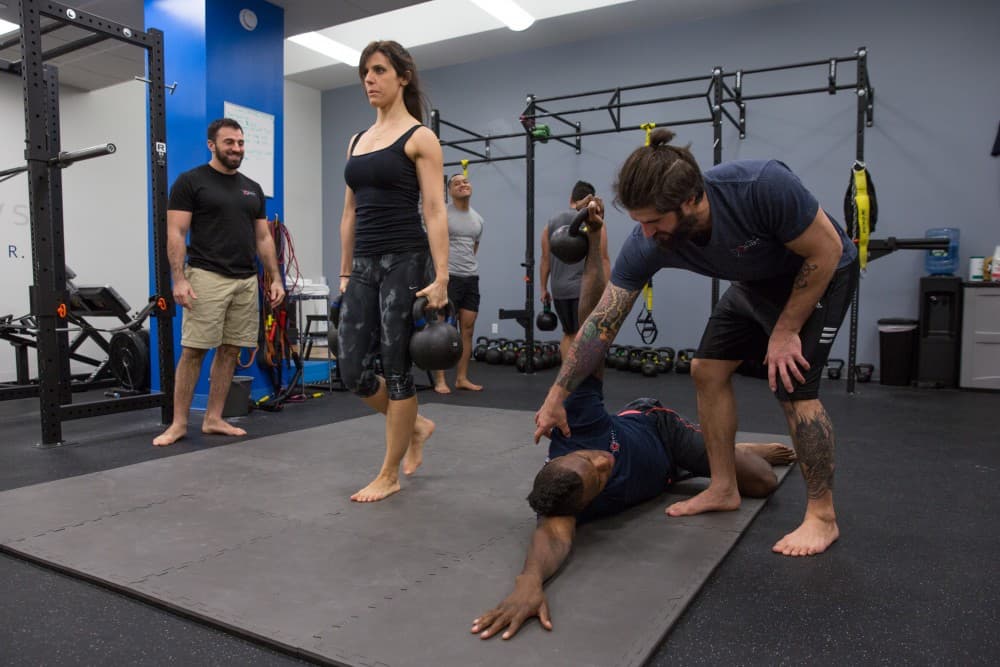 Focused Semi-Private Personal Training In New York Will Have You Seeing Results Fast!
Here is what you can expect from Catalyst S.P.O.R.T.'s Semi-Private Training:
Your program begins with a 1:1 consultation with one of our expert personal trainers. We'll ask you about your goals, exercise history, diet and anything else that's important to get you started on your program. The initial consultation also includes the Functional Movement Screen(FMS) a seven-step process which helps provide us with your individual movement profile.
Once you've completed your consultation, we will write you an individualized program which takes into account your goals, current abilities, and movement profile. The program will instruct you in exactly what to do, both in your sessions at Catalyst and during your workouts outside of Catalyst. You will be instructed on how to take full advantage of your authentic human movement.
Correct Exercise Technique = Fun & Safe
During your workouts at Catalyst in Midtown Manhattan, three students will work with one trainer in a fun, supportive, and motivating environment. Each student has his or her own program, which means that people of all different abilities can train together side by side. The trainer will help you implement the program while teaching you correct free weight, body weight, and kettle-bell techniques, and ensuring safety at all times.
Our program also relieves you of the appointment scheduling hassle often associated with 1:1 personal training—gone are the days of text messaging your trainer to schedule sessions. Scheduling is a breeze through our free, easy-to-use smartphone app. The app will show you our entire calendar, and you can schedule your session in just two clicks. Sessions are offered throughout the day, Monday through Saturday (Click here to see our schedule). We understand how busy life in NYC is and want to enable you to come to your sessions.
Start Seeing Results After Only A Few Sessions!
With others to push you to perform better than you can push yourself, motivate you when you think you can't, and best of all, congratulate you when you succeed, reaching and exceeding your fitness goals will be that much more fulfilling!
Fill out the short form on the side of this page to get started!